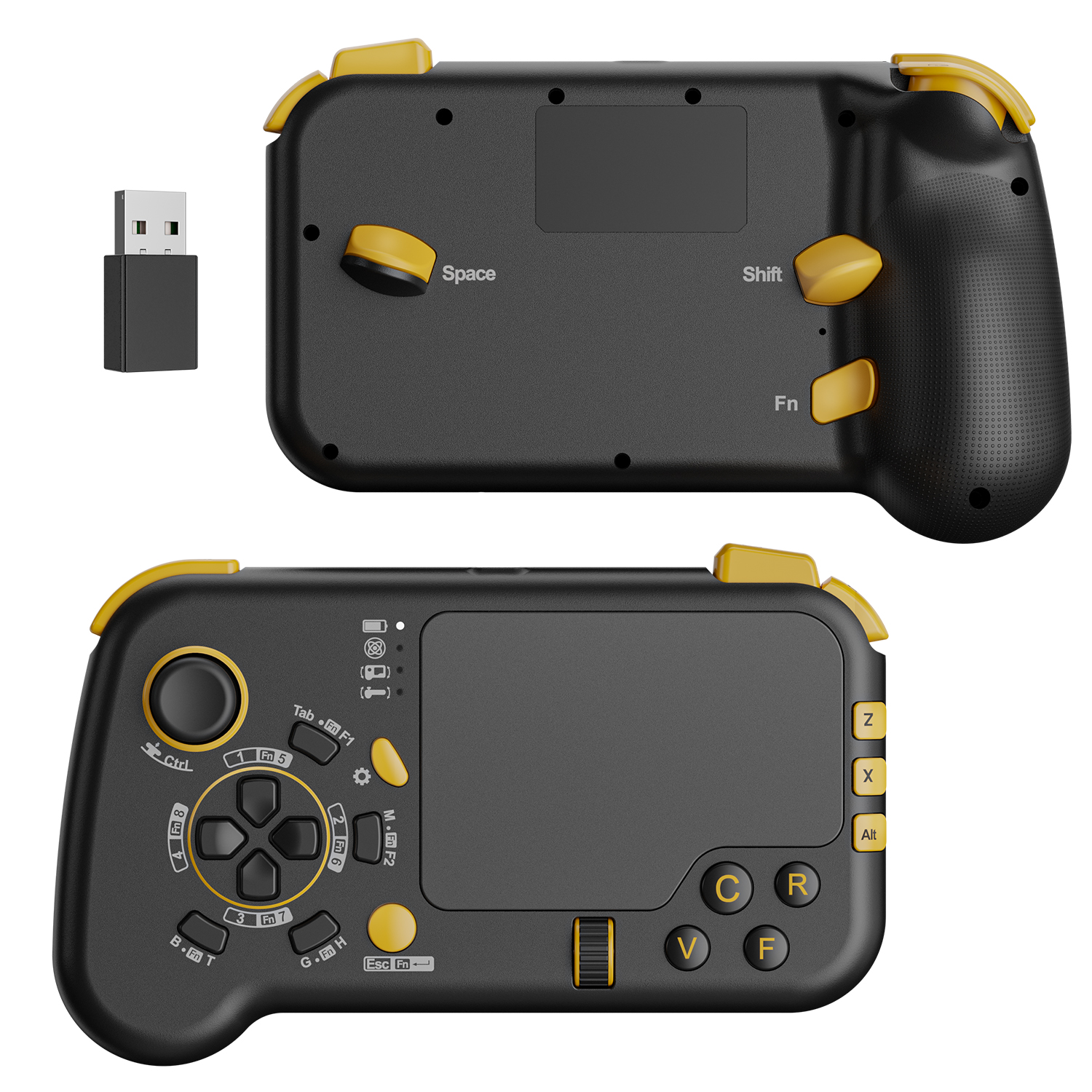 Product Specifications
Model No.: IFYOO-GTP01P-Black&Yellow
Compatibility: PC Steam, Computer/ Notebook / Laptop, Windows OS(11 10 8 7)
Compatibility: Xbox One、X Series S/X. ONLY support the games can be controlled by the keyboard and mouse.
Compatibility: PS4,PS5. ONLY support the games can be controlled by the keyboard and mouse.
Connection Method: 2.4G Wireless / Wired
Product Size: 172 x 108 x 42 mm
Product Weight: 168g
Package Contents: 1x IFYOO GTP01P Wireless Gaming Touchpad, 1x User Manual, 1x 2.4G Receiver, 1x Type-C USB Cable
IFYOO GTP01 2.4G Wireless Gaming Touchpad, Keyboard Mouse All-in-One Game Controller, Large Trackpad for Precision Aiming & Tracking, Mouse Micro Switches Buttons, Back Buttons, Modifier Key, Touchpad Controller for Windows PC, Xbox One, Xbox Series X/S, PS4, PS5 - Trackpad Controller

【ATTENTION】

It only supports the games that can be controlled by keyboard and mouse on Xbox Series X|S, Xbox One, PS5, PS4.
It has both the functions of mouse and keyboard, the key of the gaming touchpad is the key value of the keyboard and mouse, and the touchpad is the pointer movement function of the mouse. It is suitable for the games that require a more accurate perspective, such as FPS, ARPG, ACT, SLG and many more.
Product Features
PLEASE NOTE: ONLY support Xbox, PS4 and PS5 games that must support keyboard and mouse.【The Apex of Wireless Keyboard and Mouse Gaming】Keyboard & Mouse joined together into a Gamepad Size. With the convenience of Gamepad, Flexibility of Keyboard & Mouse-like Percise Trackpad. Wireless with 2.4GHz, Plug & Play, No driver needed. Compatible with PC Computer/ Notebook / Laptop, Windows OS(11 10 8 7), Mac OS, Game Console:Xbox One, Xbox Series S/X, PS4, PS5.
【Mouse-level Precise and Responsive Tackpad】Up to 6 Stops of Adjustable Track Speed. With the Large & Smooth precision trackpad, You can do Accurate aiming, Precise tracking & fast turning with easier. Dominate the competition from the comfort of your couch with unmatched precision and control. For games demands high accuracy, Like FPS, ARPG, ACT, SLG and many more.
【Powerful Gyroscope】Up to 6 stops of Gyro Speed for maximum flexibility, 3 gyro Modes and 3 Gyro Turning Axis to fit your playing style. With Gyroscope, you can do gyro aiming and turning with the unrivaled accuracy and agility.
【Optimized Button Layouts & Versatile MODIFIER KEY】With the optimized Layout, You can do moves with the right joystick, Targeting with trackpad, Fine tracking with the Gyro, fire, jump, dodge, in the same time, Leverage the FN modifier key to change the keymapping of the D-pad and other buttons, adapting your controller to suit the demands of any game.
【Micro Switch Buttons, ALPS Joystick, Textured Grip, Back Buttons, and Scroll wheels 】Boost your gaming perfomance with with these game-changing features.【PACKAGE CONTENTS】1x GTP01 Gaming Touchpad, 1x 2.4Ghz Wireless Receiver, 1x User Manual,1x USB Cable.