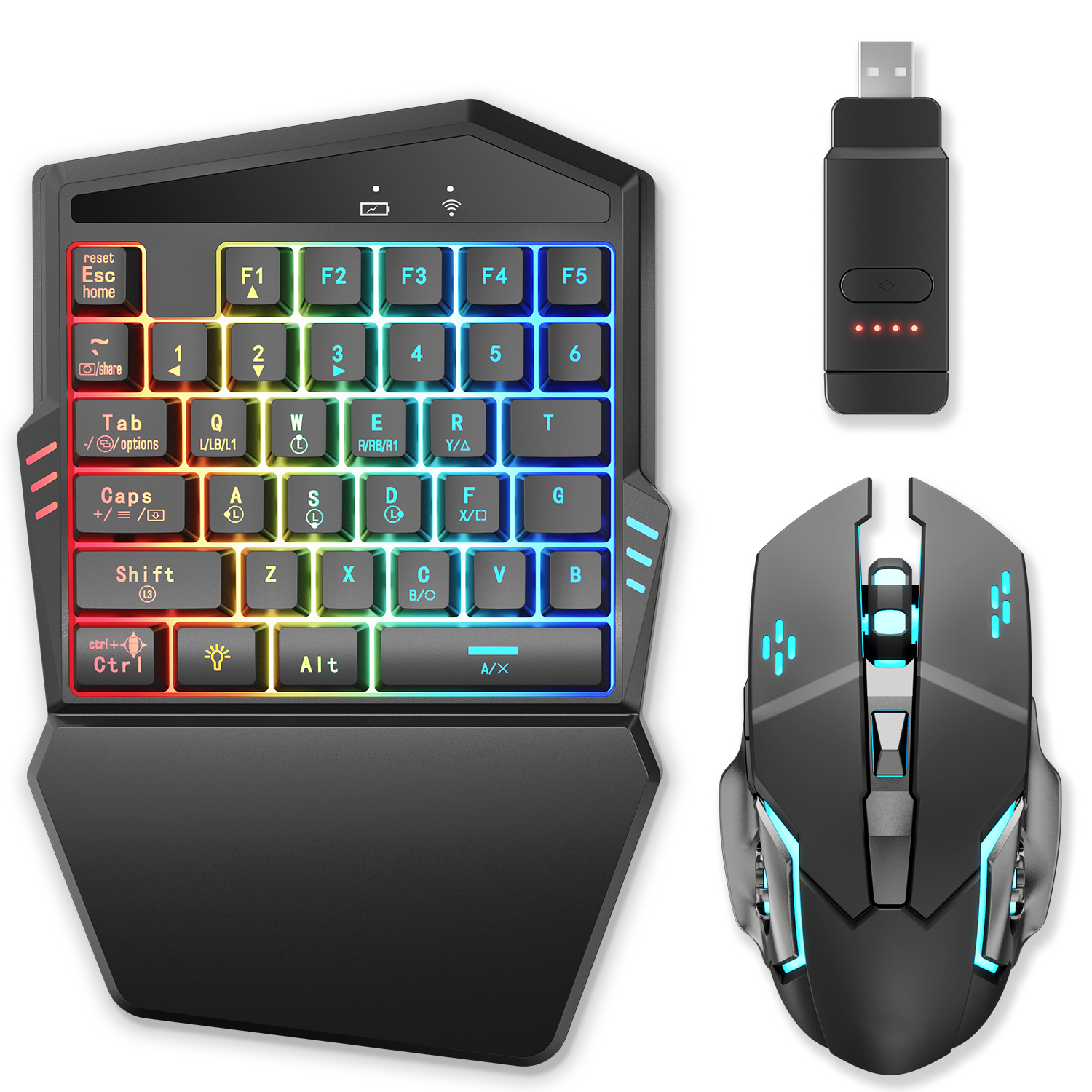 Product Specifications
Model No.: IFYOO-KMAX2-Plus-24G
Compatibility: PS4 / PS4 Pro / PS4 Slim, Xbox One / Xbox One S / Xbox One X, Switch
Interface: USB
Keyboad Size: 279 x 166 x 3.2 mm
Keyboard Weight: 310g
Product Features
【Build For Console Gaming】One-hand Wireless RGB Keyboard and Gaming Mouse Set for Game Consoles: Xbox One, PlayStation 4(PS4), PlayStation 3(PS3), Switch, PC. Perfect Control & Amazing Accuracy for FPS games like Fortnite, Rainbow Six Siege, PUBG, Overwatch, Halo, Battlefield, DOOM, COD, CS GO...
【2.4GHz Wireless Plus Rechargeable Battery】Thanks to the High Speed, Low Latency 2.4GHz Wireless Tech, You can dominate the battlefield without constraint and enjoy a Clutter free and clean desk setup.
【Plug & Play with intelligent Auto Reconnect】Just follow the instructions, Pairing the it for the fisrt time and it will auto reconnect the next time you use it. For PS4 and Xbox One console, you'll need Officail PS4, Xbox One controller to activate the keyboard and mouse.
【Advacned Key Mapping Software】Level up your gaming expirence by utilizing our key mapping software on Windows, you can customize keys of the keyboard and mouse.【Note】Keybaord's firmware is updating regularly with functionality and performance improvement. Please check it if needed.
【Pro RGB Gaming Keyboard & Mouse】The One Hand RGB Keyboard Features : Ergonomic design with Palm rest, RGB Backlight effects. Gaming Mouse exclusively finetuned for Console Gaming.